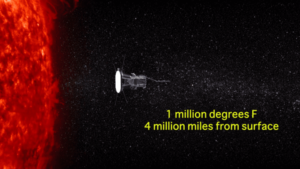 American spacecraft going to make a record to be near the sun
American spacecraft going to make a record to be near the sun and having a fastest spacecraft ever built in history
On August 2018 american spacecraft send parker solar satellite now NASA announced that it is so near to Sun that it is going to make a new record in world history.
According to NASA the Solar probe is now near to sun from 29th October the distance between solar probe and sun is now 4 million kilometre which is a new World Record to go near to Sun.
It is a world first fastest and highly technology based spacecraft ever built
NASA is also expected that not only solar probe will complete his journey but also will take the record of fastest aircraft in history.
The first spacecraft which is said to sun was German American Helieves which was send to sun in 1976
See More Here : Nasa Send Solar Probe Satellite to sun to discover its nature