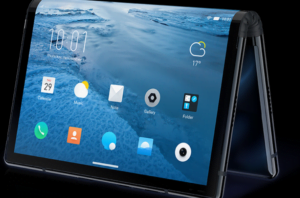 From this year Samsung all day announced upcoming foldable smartphone but recently south Korean techjoint leaked some photos and statements about upcoming foldable Samsung mobile.
The smartphone giant has recently added some photos on social media like Facebook and Twitter with a pics of a foldable something logo which is the hint of the upcoming foldable Samsung mobile in upcoming weeks.
This is the "world's first foldable screen phone" released by Rouyu Technology, which will use the Snapdragon 8150 processor, but its design is very rough, just to seize the "first", this is a futures product.

pic.twitter.com/M0v9o2z0Bw

— Ice universe (@UniverseIce) October 31, 2018
Some information about upcoming Samsung foldable mobile leaked according to this information mobile phone features maybe:
It would be a Canvas and portrait mode it will be different from other traditional tablet form factors.
The phone will be size of a tablet but it can be folded into a phone which can fit in a pocket easily.
After the sales of Galaxy S9 which was most disappointing sales of Samsung company the next foldable Samsung devices will come in 2019.
By Samsung's CEO, DJ Koh
Samsung developer Conference revealed about some of the features about this upcoming phone
Other mobiles like LG , Xiaomi and Lenovo also coming with a foldable devices next year.
According to some reports Samsung is going to work with Google for special Android vision devices if this type of agreement will work then they will produce smartphone in tablet industries with its dual features of having a tablet and mobile phone features.
Expected prices and hardware
According to some reports upcoming Galaxy F price will be $2,000 with the internal storage of 512GB. It will be 7 inch AMOLED display and a huge battery.