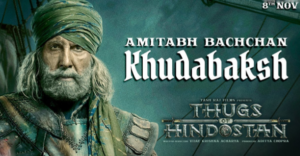 There are lots of movies released each year from Hollywood Bollywood and other film industries in the world some one of them got poorly flopped and someone got criticized.But Here are Top 6 reasons why we should not watch thugs of Hindustan.
The entertainment is the name to entertain the audience with a new ideas and actions they want to watch one of the Bollywood movie thugs of Hindustan is going to release at 8 November but there is a lot of things that I am going to share today.
1. It looks like a copy of Pirates of Caribbean
One of the best movies in pirates are the Pirates of Caribbean but thugs of Hindustan look like the Pirates of Caribbean as their characters names posters they are all look similar to each other.
Even the movie name is also interchange as pirates change to thugs and the Caribbeans replaced by Hindustan.
2. No Creativity
Another thing is creativity there is no creativity done at this movie because the movie characters actions are are copied from other super hit movies from Hollywood and from Bollywood movies.
One of the action scene in this film is actually copied from Bahubali 2 and from rise of an Empire sense is the shooting of 3 arrows.
3. Unsuccessful director
Vijay Krishna Acharya has directed some of the flop movies in Bollywood like Tashan and Dhoom 3. Till now he is not a successful director from Bollywood.
Their movies flopped in Bollywood industries and are so disappointed most of the audience also his film Dhoom 3 was also a copy of Hollywood movie Prestige.
4. Poor VFX and graphics
Which movie has the budget of 210 crore but its VFX was not as good as related to its budget it looks like a cartoon and animated movie series but movie it try to get a best shot to entertain audience.
5. Katrina Kaif
Katrina Kaif was also in the movie but he appear on the screen for 2 minutes only.
6. False and wrong history
Story of the movie was not real it was also copied from a famous book dedicated by author Philip Meadows Taylor. Instead of lowlife deceivers they are replaced with pirates and thugs.
The war in the movie was also falsified. And there is no any kind of War has been read from this book.