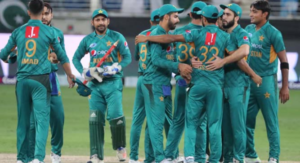 After Australia Pakistan also wiped off new Zealand in T20 Series
After Australia Pakistan also wiped off new Zealand in T20 Series make 166 runs on 3 wickets
In in the third T20 Series Pakistan defeated New Zealand from 47 runs.
Now he is the winner of the 11th series of 9th match. Pakistan show his great performance in the match and also dept of australia.
In this match Pakistan give 166 runs over 3 wickets. Players also perform very well as Babar Azam make 79 runs hafiz make 53 runs.
Against this match new Zealand make only 119 runs in 16.5. New Zealand cricketer williamson also get success to make 50 but you did not get success 2 win the match.
Pakistani bowlers ahmed and workers take two two wickets.
Sarfaraz Ahmed as a captain
When Sarfaraz Ahmed take control of Pakistani team they win 29 T20 matches out of 33 Matches and Sarfaraz Ahmed is one of the best player ever in T20 matches also in other matches.
Before these matches Pakistan also wiped off west Indies Sri Lanka australia from 3-0 and Scotland with 2-0.