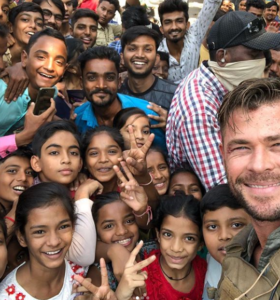 Chris Hemsworth aka Thor in India stuck in Indian fan
Chris Hemsworth aka Thor in India stuck in Indian fan and got sucked between Indian's fans
Hollywood superstar Chris Hemsworth aka thor the greatest Avenger is in India this day enjoying a lots of movement around Indian fans thank the country of having a so much love and welcome informally.
Chris Hemsworth aka thor is the one of the avenger in Hollywood movie who will be appear in Avenger 4.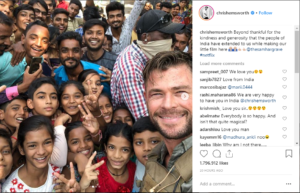 Chris Hemsworth aka Thor in India stuck in Indian fan
With the fan and following thor stuck in india Ahmedabad streets and lots of Children's and address was happy to see he said
Beyond thankful for the kindness and generosity that people of India has extended to us making our little film here.
Previous week Chris Hemsworth was in India for the shoot of Netflix film Dhaka at Sunday night he shared many photos on Instagram when he was in the car and taking pictures outside of the window
"Beautiful chaos"