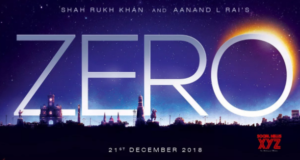 Shahrukh Khan movie zero trailer Brock several records Trailer seen by 6 crore people
On November 2 the movie Zero trailer released. Now it is announced that it broke many records on social media retailer is boss of 3 minutes and 14 seconds but it is now seen by 6 crore people all around the world.
One of the special thing about this movie is that Salman Khan will appear in this movie as a guest side by side famous Bollywood Bollywood celebrities like Anushka Sharma and Katrina Kaif also worked in this movie.
Audience love this movie trailer as the Shahrukh Khan is playing a role of a man who has a short height.
It is expected that this movie will released in December 21.